Jayashree Basavaraj as Padma
Renowned throughout her home country of India, Jayashree is the grand-daughter of the Indian theatre icon Gubbi Veeranna, and has been performing on stage and screen since the age of four. She graduated from the National School of Drama in 1973.
She is so highly respected that in 2010, the Indian government recently made her a member of parliament (Rajya Sabha), with the main purpose of representing Indian arts and theatre. In addition to acting, Jayashree is also famous for her singing voice, and is regarded as the best stage singer in India.
Jayashree (also known as B. Jayashree in India) has acted in several movies in the Kannada Lanuage. She won Best Supporting Actress for NADAMANDALA (1997)(view video). She has starred in several Indian films including, CARE OF FOOTPATH (2009), ALEMAARI (2001), DEVEERI (1999), KADAMBA (1982).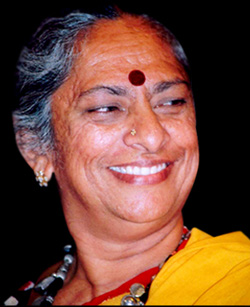 She has been the Creative Director for the famed Kannada Theater Group Spandana in Bangalor, India since 1976 and has directed and acted in more than 50 Spandana plays. Jayashree was conferred an Honorary Doctorate for her achievements in the field of culture by the Karnataka Mysore Open University in 2009, giving her the title of Dr. B. Jayashree. She has worked on projects with theatre workshops in Edinburgh, to commemorate 50 years of India's Independence and has been the choreographer for the Festival of India in Sweden. Jayashree is a recipient of several prestigious theatrical awards including the Safdar Hashmi Award, Central Sangeet Natak Academy Award, Sandesh Award, B.V. Karanth Smriti Puraskaar and the Rajyotsava Award.